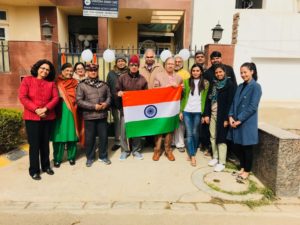 On 25th January, Samvedna Senior Care Foundation celebrated the 69th Republic Day at its senior centre in Gurgaon. The celebrations started with everyone marking their respect to the nation by singing the national anthem.
Members from our Cognitive Wellness Programme along with our team sang patriotic songs.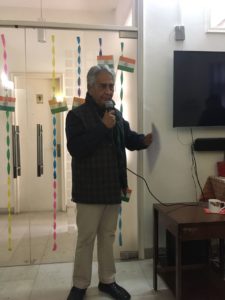 Our quizmaster Mr. Partha Basu conducted an interesting quiz for the seniors on Republic Day. The audience had their heads spinning to get the correct answers. The winner, Mrs. Khanna, was decided after an intense tie breaker.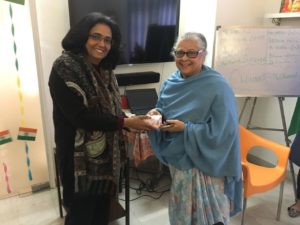 The celebrations became livelier with seniors going down the memory lanes and sharing their unforgettable Republic Day experiences. Mrs. Asha Sood read one of her  poem "Oh Insaan" to remind all that peace is the most beautiful thing and love should be our guide.
After having sweets and snacks, everyone  enthusiastically danced to patriotic songs.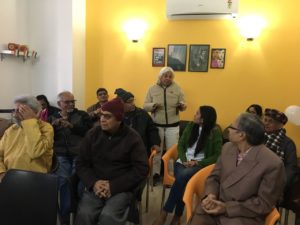 Team Samvedna wishes everyone a very Happy Republic Day.
Jai Hind!
---
Samvedna Senior Care was set up in 2013 with the aim of providing services for active ageing and dementia care in Delhi NCR.
We set up the Samvedna Senior Care Foundation in December 2016 to promote active ageing through senior centres, and events and workshops on subjects like learning smartphones, interpersonal relationships and more. We bring together dementia caregivers through a support group and have a programme for seniors with early dementia, depression or other minor cognitive impairments.
All our counsellors are psychologists or gerontologists.
—-
Great Times Club, which is a part of the Samvedna Senior Care Foundation, is our social and recreational club in Sector 57, Gurgaon, for members 55 years and above.Its a place where members come to get fit, meet like minded people and share their life experiences and give back to the community.
Activities at the club include fitness exercises, group meditation, mind stimulation, tambola, dancing, book reviews, movies, community outreach, and talks on health management. The club has a library, computer room, visits by physiotherapists and doctors, access to board games and cards, a fully functional pantry with healthy and affordable snacks and tea and coffee on the house.
There are special discounts for group memberships. The club is open Monday-Friday, 11am to 2pm.There are special classes for yoga, smart phones, computers, spoken english, dance, music and painting. Call Great Times Club at 9818421446, 0124-4229659.
Know more here – Great Times Club