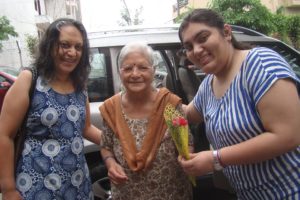 Alzheimer's can bring in some unsettling behavior that make it stressful for a caregiver to go out in public with someone who has the disease. As a family caregiver, one is always looking for ways to improve the quality of life of their loved one. With the weather quickly turning towards warmth and sunshine, one great way to do so is to take trips into the outdoor world.
Outings are important activities for seniors with dementia, but can sometimes cause agitation or confusion, along with making wandering behavior harder to control. As the disease progresses, social gatherings or parties may eventually be out of the question. However, if your loved one is able, try to involve them in family gatherings and other events if possible. As for many people in the earlier stages of Alzheimer's/ dementia disease, having an activity and or outing can reduce agitation and boredom.
Some of the other benefits of outings for dementia patients are:
Individuals with dementia often suffer from high-stress and agitation. Going outdoors can allow for mood enhancement, lower stress levels, and lift the spirits.
Exposure to bright sunshine is known to help improve sleep.
Going out also lessens the sense of isolation often experienced by people with memory loss.
The person develops a stronger sense of self, which can greatly improve your loved one's self-esteem, confidence, and happiness.
Outings also offer a great source for reality orientation and help them tap into what is going on around them.
A social outing for a person with dementia adds variety in their daily routine.
Planning outings to parks, coffee shops where the loved one used to go routinely provides a great way to create new memories.
Tips for an ideal outing with a person with dementia
If you are planning an outing for your loved one, make sure to keep in mind the following tips so that your loved one has a successful trip out of the house.
Planning the outing
Plan for the outing beforehand; the trip duration, timings and mode of travel. Some elderly have a specific time of day that is much better than others. In some situations, you may want to make sure that an in-home attendant or care provider is able to accompany you.
Preparing everyone


Some elderly with dementia become anxious or irritable when they know that an event is approaching. Others do better knowing well in advance. While you're in the preparation stages, let anyone at the restaurant or other location knows about any special needs or accommodations necessary to make the outing a success.

Refrain from memory tests
Speak with friends and family prior to the outing to help prepare them for what they should or should not say. For instance, do not allow the outing to turn into a memory test for the elderly. He/she could become agitated and uncomfortable. Instead of asking your loved one if he/she remembers someone, just politely mention and introduce the person to them.
Keep a normal routine
When arranging an outing, you can make your loved one more comfortable by including tasks from his or her normal daily routine. In case, if your loved one usually takes a walk after meals, be sure to make time to take him or her for a walk after eating. If your loved one always eats at a certain time, be sure to stick to that schedule.
Dress them suitably
Comfortable clothing is important for anyone wanting to have fun in an outing, but especially for seniors whose dementia symptoms may cause them to become easily agitated. Make sure your loved one is dressed in comfortable clothes and walking shoes. This can help ensure your loved one not only feels his or her best, but also reduces the risk of tripping and falling in unfamiliar surroundings.
Pack the essentials
Pack plenty of water, snacks, and extra clothing for an outing. Know what personal items help comfort your loved one. Even favorite belongings from home can go a long way to soothe him or her when in an outdoor environment. Also don't forget to pack necessary medications, up-to-date medical information, a list of emergency contacts and photocopies of important legal documents.
---
We at Samvedna Senior Care aim to help seniors live happy, active and independent lives, in the comfort of their home and community through interactive caregiving.
Samvedna Senior Care was established in October 2013 with two complementary goals – firstly to provide quality home care services to seniors with limited mobility or dementia and hence social interaction, and secondly to facilitate stimulating community interaction and participation.
Our Dementia Care services are –
Cognitive Wellness Programme, Sector 57  Gurgaon  –
Samvedna's Cognitive Wellness Programme is designed for seniors with mild cognitive impairment, early dementia or Parkinson's, and elderly lacking in enthusiasm and motivation. The aim is to stimulate the mind of the elderly to slow the progression of the disease or impairment. The sessions are 3 days a week, 11AM-1PM.
More – http://www.samvednacare.org/our-work/cognitive-wellness-programme
At-home services –
Dementia intervention activities by trained Care Specialists (already mentioned above). These services are available in Delhi NCR
More – http://www.samvednacare.com/dementia-care
Please call us for more info – Delhi NCR – 98184 21446, 124 4229659
Dementia Support Group –
Our Dementia Support group in Delhi NCR and Guwahati is a platform for caregivers to share feelings and support each other.
More – http://www.samvednacare.org/our-work/dementia-care
Please call us for more info – Delhi NCR – 98184 21446, 124 4229659 | Guwahati – 9864015872