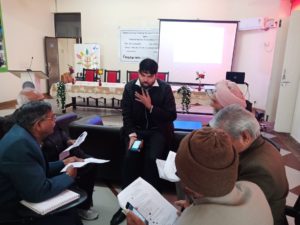 Samvedna Senior Care Foundation along with HelpAge India organized a Digital Literacy Programme at TNAI (Trained Nurses Association of India) – Greater Noida. More than 25 seniors attended the programme.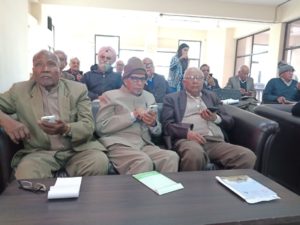 Online Transactions, WhatsApp and Facebook were taught and discussed in detail by Samvedna digital trainers. The programme started at 10:30 AM with a brief introduction about Helpage and Samvedna Senior Care. Seniors shared their fear and concerns about online transactions before the session. They felt fast lifestyle has made it impossible to survive without technology.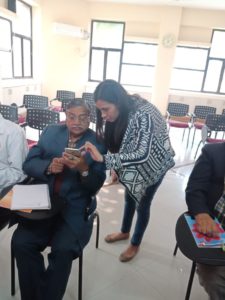 Samvedna speakers Ravina and Abdul, with the help of senior friendly presentation and simple examples, talked about various Online Transactions. Utilities bill payment, online shopping and Whatsapp were topics of interest for senior citizens.
A brief query session and quick revision marked the end of the topic. The participants were divided into 2 groups of 10-12 people each. One person from Samvedna was sitting with each group and resolved all the doubts regarding social media phenomena Facebook and WhatsApp. Everyone's individual queries were taken up and resolved. Queries regarding WhatsApp groups, broadcast messages, sharing pictures and deleting chats were also addressed.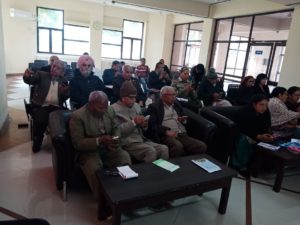 Senior citizens shared positive feedback about the session. Ms. Sanghmitra Sawant from TNAI requested about more sessions in near future with Samvedna Senior Care. At the end, group pictures were taken followed by refreshments.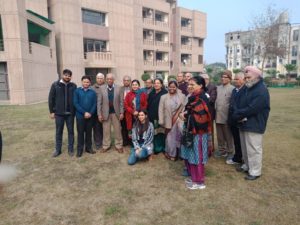 ---
Samvedna Senior Care was set up in 2013 with the aim of providing services for active ageing and dementia care in Delhi NCR.
We set up the Samvedna Senior Care Foundation in December 2016 to promote active ageing through senior centres, and events and workshops on subjects like learning smartphones, interpersonal relationships and more. We bring together dementia caregivers through a support group and have a programme for seniors with early dementia, depression or other minor cognitive impairments.
All our counsellors are psychologists or gerontologists.
—
Great Times Club, which is a part of the Samvedna Senior Care Foundation, is our social and recreational club in Sector 57, Gurgaon, for members 55 years and above.Its a place where members come to get fit, meet like minded people and share their life experiences and give back to the community.
Activities at the club include fitness exercises, group meditation, mind stimulation, tambola, dancing, book reviews, movies, community outreach, and talks on health management. The club has a library, computer room, visits by physiotherapists and doctors, access to board games and cards, a fully functional pantry with healthy and affordable snacks and tea and coffee on the house.
There are special discounts for group memberships. The club is open Monday-Friday, 11am to 2pm.There are special classes for yoga, smart phones, computers, spoken english, dance, music and painting. Call Great Times Club at 9818421446, 0124-4229659.
Know more here – Great Times Club