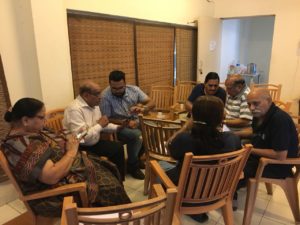 Our new team member Tarun assisted in conducting his first smartphone workshop. Here is his experience!
"Today was my first experience with conducting a "Digital Literacy Programme" for seniors, at Safdarjung Enclave Senior Citizen's Association. This program was organized by Samvedna Senior Care Foundation, in collaboration with HelpAge India.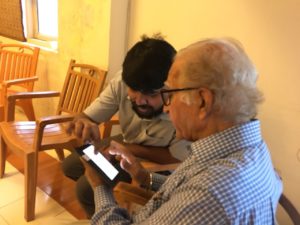 The program started at 11 AM and the first topic of discussion was "Internet transactions". As we ventured into the topic, doubts started storming in. There were a number of concerns regarding the topic, such as how one can trust the websites, how they can use online transactions, why they should prefer online transactions to offline ones and much more.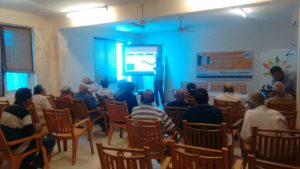 After that, we talked about WhatsApp. We discussed things like how to send broadcast messages, how to create groups, how to upload a profile picture, how to operate privacy settings, and so on.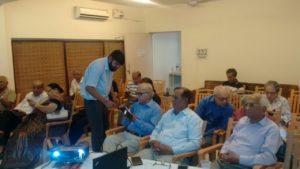 Post presentation, the members enjoyed a small tea-break, which was also accompanied by some doubts. Towards the end, we split the participants into small groups and clarified their doubts individually. We also conducted various practical scenarios in this session to demonstrate the features of the tools.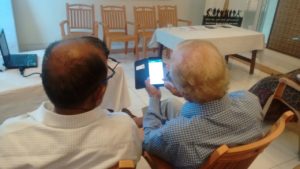 The members learned a lot and there were smiles on their faces, as they feltmore empowered by the end of the session. Seniors were very happy and satisfied with our presentation and wanted us to conduct more of such programmes for them.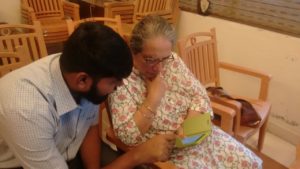 Overall it was personally satisfying for me as I could make a difference in their lives in a small way. I also realized that what we youngsters feel are simple features can be complicated for someone new to technology. You can teach anyone how to use their smartphones, if you have the patience and the motivation to do so."
---
Samvedna Senior Care was set up in 2013 with the aim of providing services for active ageing and dementia care in Delhi NCR.
We set up the Samvedna Senior Care Foundation in December 2016 to promote active ageing through senior centres, and events and workshops on subjects like learning smartphones, interpersonal relationships and more. We bring together dementia caregivers through a support group and have a programme for seniors with early dementia, depression or other minor cognitive impairments.
All our counsellors are psychologists or gerontologists.
—
Great Times Club, which is a part of the Samvedna Senior Care Foundation, is our social and recreational club in Sector 57, Gurgaon, for members 55 years and above.Its a place where members come to get fit, meet like minded people and share their life experiences and give back to the community.
Activities at the club include fitness exercises, group meditation, mind stimulation, tambola, dancing, book reviews, movies, community outreach, and talks on health management. The club has a library, computer room, visits by physiotherapists and doctors, access to board games and cards, a fully functional pantry with healthy and affordable snacks and tea and coffee on the house.
There are special discounts for group memberships. The club is open Monday-Friday, 11am to 2pm.There are special classes for yoga, smart phones, computers, spoken english, dance, music and painting. Call Great Times Club at 9818421446, 0124-4229659.
Know more here – Great Times Club