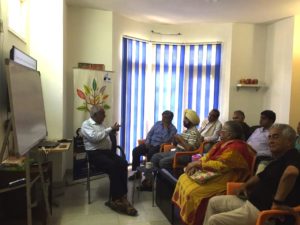 About one third of the people suffering from diabetes don't know that they have diabetes and millions of people all over the globe suffer from it. It is also one of the most sought after health topics especially for senior citizens. Dr. Satish Chawla, MD, FACP, AIIMS, conducted a talk on Diabetes and its management at our senior centre in Gurgaon.
He started with discussing about insulin levels, types of diabetes, the effects that it has on our body, the risk factors of diabetes, types of food that trigger diabetes and its few causes.
He gave the members insight into the food they should avoid when they are diagnosed with diabetes. He discouraged use of 'diabetic' foods available in the market as most of them have fructose in it which can be harmful.
Few key points that are to be kept in mind:
Eat a healthy and balanced diet
Avoid heavy meals
Avoid refined sugar
Avoid fried and nutritionally poor foods
Exercise
He also laid emphasis on proper exercise and physical workout for seniors. He advised that elderly don't need to focus on building muscles but rather they should focus on remaining fit. He advised the members to do aerobics and cardio exercises, like brisk walks or strength training. He however discouraged to use heavy weights and recommended focusing on increasing the repetitions and keeping the weights light.
Diabetes can be prevented by leading a healthy lifestyle. Also, even after diagnosis it can be managed with proper care. The audience was participative and had lots of questions. The members really enjoyed the session and asked us to arrange for more of such sessions on various other topics. We concluded the session with a big thank you to Dr. Chawla, followed by refreshments.
---
Samvedna Senior Care was set up in 2013 with the aim of providing services for active ageing and dementia care in Delhi NCR.
We set up the Samvedna Senior Care Foundation in December 2016 to promote active ageing through senior centres, and events and workshops on subjects like learning smartphones, interpersonal relationships and more. We bring together dementia caregivers through a support group and have a programme for seniors with early dementia, depression or other minor cognitive impairments.
All our counsellors are psychologists or gerontologists.
—
Great Times Club, which is a part of the Samvedna Senior Care Foundation, is our social and recreational club in Sector 57, Gurgaon, for members 55 years and above.Its a place where members come to get fit, meet like minded people and share their life experiences and give back to the community.
Activities at the club include fitness exercises, group meditation, mind stimulation, tambola, dancing, book reviews, movies, community outreach, and talks on health management. The club has a library, computer room, visits by physiotherapists and doctors, access to board games and cards, a fully functional pantry with healthy and affordable snacks and tea and coffee on the house.
There are special discounts for group memberships. The club is open Monday-Friday, 11am to 2pm.There are special classes for yoga, smart phones, computers, spoken english, dance, music and painting. Call Great Times Club at 9818421446, 0124-4229659.
Know more here – Great Times Club