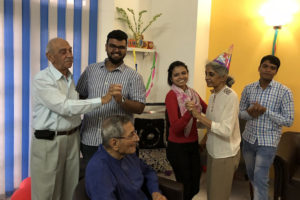 On 10th April, 2018, Samvedna Senior Care's Dementia café, 'D – Socialites' opened its doors to people with Dementia. The purpose of a Dementia Café is to provide socialization and companionship in a warm and caring environment. Open to Caregivers and their family members, the Café provides more than coffee to its guests. It is run by Dementia experts who conduct various activities and also support the caregivers with their queries.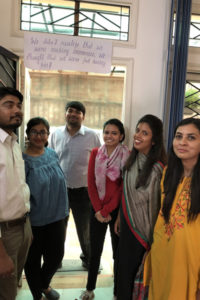 As seniors walked in the atmosphere began to warm up and they were led into the main stimulation room. The theme for the day was "Party" and the room was decorated accordingly with balloons and frills, along with soothing music, playing in the background.
We started with an icebreaker activity of introductions along with everyone sharing their favourite colour and sweets. The seniors then played a game of catch, they all laughed joyfully while passing the ball around and throwing it into a box.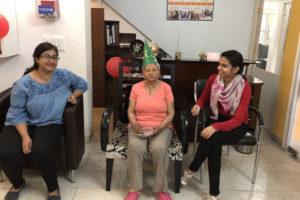 As they were listening to old music in the background a couple of them started humming the songs. Music can rekindle great memories and can be very soothing for a person with Dementia. As some guests started getting a bit restless they were led to the activity area, where they got engaged playing carom and snakes 'n' ladders. This distracted them from their restlessness and they got socializing with others. They found joy in complimenting each other and celebrating the points scored by each member.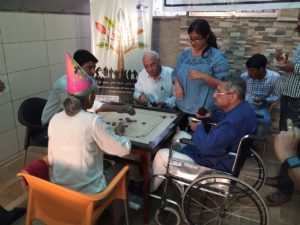 For the more advanced dementia patients there were sensory and tactile stimulation activities to let go of the aggression and calm them down.
After their tea, coffee and snacks everyone danced to the tunes of old party songs. Some of them even did a bit of a tango and had loads of fun. The caregivers felt extremely happy and relaxed. One of the caregivers, who travelled 40 kms, said that the concept was amazing and that she would love to be a part of it and would regularly bring her husband to the café.
---
We at Samvedna Senior Care aim to help seniors live happy, active and independent lives, in the comfort of their home and community through interactive caregiving.
Samvedna Senior Care was established in October 2013 with two complementary goals – firstly to provide quality home care services to seniors with limited mobility or dementia and hence social interaction, and secondly to facilitate stimulating community interaction and participation.
Our Dementia Care services are –
Dementia Cafe, Sector 57 Gurgaon –
From initial stage to advanced stage, all individuals with dementia feel the need for social interaction at times. Our Dementia Cafe is a safe and friendly place for your loved one with dementia to chill and socialize. The cafe is a place where they will find a fun activity, a warm chair and companionship. Every Tuesday and Thursday, 4-5.30PM.
More – http://www.samvednacare.org/our-work/dementia-cafe
Cognitive Wellness Programme, Sector 57  Gurgaon  –
Samvedna's Cognitive Wellness Programme is designed for seniors with mild cognitive impairment, early dementia or Parkinson's, and elderly lacking in enthusiasm and motivation. The aim is to stimulate the mind of the elderly to slow the progression of the disease or impairment. The sessions are 3 days a week, 11AM-1PM.
More – http://www.samvednacare.org/our-work/cognitive-wellness-programme
At-home services –
Dementia intervention activities by trained Care Specialists (already mentioned above). These services are available in Delhi NCR
More – http://www.samvednacare.com/dementia-care
Please call us for more info – Delhi NCR – 98184 21446, 124 4229659
Dementia Support Group –
Our Dementia Support group in Delhi NCR and Guwahati is a platform for caregivers to share feelings and support each other.
More – http://www.samvednacare.org/our-work/dementia-care
Please call us for more info – Delhi NCR – 98184 21446, 124 4229659