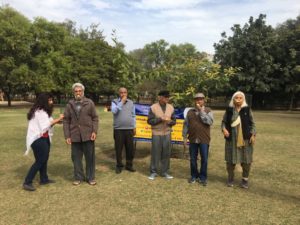 No matter how old we are we can still be 18 in spirit. We can still spin a ball, hit that shuttle cock across the net, or make the perfect goal. There is a huge need for a redefinition of how we see age because not all elderly are aware of the breadth of their capabilitie
s. The term sport for the elderly has a different perspective in the Indian context.
It is necessary to change the conceptual model of ageing as one should adopt a new image of active living. Staying healthy and feeling your best is important at any age and a few grey hair doesn't change that.
Sport is something which is not only limited to young people or athletes. It is also highly recommended for the elderly too. Being fit is very important for all age whether we are young or old.  Most of us when we grow old we become less active and makes ourselves less involved in physical exertion.
Engaging in sports has lot of benefits:
Physical exercises and sports leads to better physical health.
Sports are also known to improve feeling of happiness and wellbeing.
Involving in sports related activities can help prevent muscular and cardiovascular problems.
Sports help to organize the daily life functioning and increase self-confidence.
Involvement in team sports can foster social interaction and social relationships.
It also prevents one from illness and chronic diseases.
Regular exercise helps in building strength and stamina, prevents loss of bone mass and improves balance.
It helps to improve the ability of the muscles to relax, joint flexibility, endurance and controlling body-weight.
It also helps to maintain the ability to live independently and reduces the risk of falling and fracturing bones.
It reduces the level of blood pressure in some people with hypertension.
How having sports in your life can help stay fit as one ages
Making just a few changes in life can keep us stay young. Aging may follow a pattern, but with sports and good nutrition one can enjoy life to the fullest.
Until we reach 30 our muscles grow larger and stronger. But after that we start losing muscle mass if we don't stay active.
I want to share some examples of people who have engaged themselves in sports as they aged. A retired pilot continues to enjoy his time at the golf course at the age of 85 with his friends. It helps him stay busy and engaged while also positively affecting his physical health. A smart young retired music professor continues to play tennis for 2 hours every day. It keeps him mentally and physically fit.
Tips for learning a new sport:
A lot of us are busy with work, responsibilities and raising our children. Many of us do not find time to indulge in sports. Retirement provides us with an opportunity to indulge in sports.
Age is just a number.
Make sure your physical health is compatible with the sport you choose.
Train your mind not just your body.
Motivate yourselves mentally.
Open yourself up to new experiences.
---
Samvedna Senior Care was set up in 2013 with the aim of providing services for active ageing and dementia care in Delhi NCR.
We set up the Samvedna Senior Care Foundation in December 2016 to promote active ageing through senior centres, and events and workshops on subjects like learning smartphones, interpersonal relationships and more. We bring together dementia caregivers through a support group and have a programme for seniors with early dementia, depression or other minor cognitive impairments.
All our counsellors are psychologists or gerontologists.
—
Great Times Club, which is a part of the Samvedna Senior Care Foundation, is our social and recreational club in Sector 57, Gurgaon, for members 55 years and above.Its a place where members come to get fit, meet like minded people and share their life experiences and give back to the community.
Activities at the club include fitness exercises, group meditation, mind stimulation, tambola, dancing, book reviews, movies, community outreach, and talks on health management. The club has a library, computer room, visits by physiotherapists and doctors, access to board games and cards, a fully functional pantry with healthy and affordable snacks and tea and coffee on the house.
There are special discounts for group memberships. The club is open Monday-Friday, 11am to 2pm.There are special classes for yoga, smart phones, computers, spoken english, dance, music and painting. Call Great Times Club at 9818421446, 0124-4229659.
Know more here – Great Times Club